How To Connect Two Computers To One Monitor Without KVM
Have you been having trouble finding enough space for all of your computers? Or, if you're not successful in locating the correct answer to "How To Connect Two Computers To One Monitor Without KVM?" after extensive research, then stay put, grab a cup of coffee, and continue reading.
Because today we are providing you with the best and most useful methods ever to solve this problem, like KVM switches, which are the most beneficial, as well as a variety of alternatives available in this modern era.
Therefore, stick with us until the conclusion of this article. Because we'll cover every scenario imaginable for configuring your multiple computers, Now, Let's Begin.
Make Use Of Your Monitor's Multiple Ports
Multiple input ports are common on monitors.  Most monitors have HDMI, DisplayPort, and VGA connectors.
Alternatively, if you have a nice 144hz refresh rate monitor, there's a considerable possibility it has two or more HDMI connections for connection.
However, this is entirely dependent on the age and type of your display. If you have two PCs on your desk, you may easily connect them to one monitor using two HDMI connections.
And, if you wish to switch between the PCs at any time, you may do it via the monitor's internal menu.
However, one issue that users have reported is that if their monitor does not have two HDMI connections, it will not display the precise resolution on the monitor, which is not ideal.
If you have an adapter in your house or workplace, this difficulty will go away, and you will also get the right resolution.
There are only a few widescreen monitors on the market that can handle numerous inputs and display them on the screen at the same time. However, they are expensive, and we do not recommend purchasing them solely for this reason.
Hardware KVM switches
Another approach is to utilize a KVM switch, which is a piece of hardware. To put it another way, KVM is an abbreviation. A KVM switch is a device that allows a single keyboard, mouse, and monitor to control several computers.
This eliminates the need for two sets or the hassle of repeatedly unplugging and replugging. However, you will need to purchase an additional piece of technology.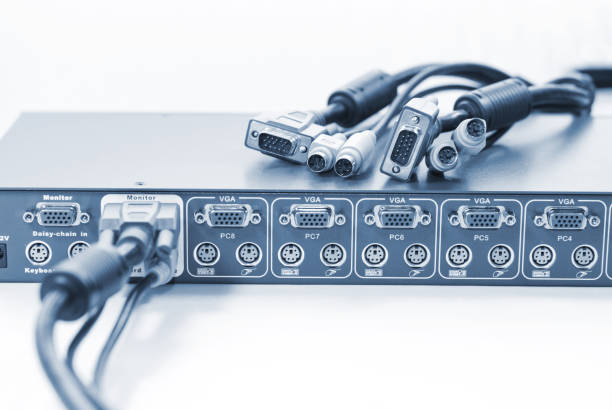 The KVM will feature a switch or button that will allow you to select which computer should have access to the peripherals. To change which device is controlled, the switch can be flicked at any time.
Both computers must be turned on in order to function. It normally just takes a few seconds for your monitor to switch to its new input. You will also need to keep your KVM switch in a convenient location.
The ideal device relies on your usage requirements and can range in price and capability from less than $20 for a simple two-device switch to more than $100 for high-end devices enabling multiple 4k connections.
This solution saves the most space and is the most user-friendly; the only drawbacks are the need to purchase additional hardware and the fact that the PCs must be close enough to be connected to the same KVM. Because there isn't always a lot of spare cables, you'll need to keep both devices near together.
Is There Any Other Option?
Although KVM switches might be useful at times, they do have disadvantages. When utilizing a KVM switch, for example, you will experience some latency concerns. Despite the fact that certain high-end KVM switches do not have this problem. However, you will have to pay a lot of money for such KVM switches. As a result, a KVM switch is not a good personal choice.
Is there any other option? There are a few alternatives to a physical KVM switch, which is fortunate for you. Let's have a look at the ones listed below.
Third-Party Software
Assume you don't have access to a multi-input monitor. When faced with this situation, what are your options? We do, however, offer another option for you. Instead of a KVM switch, you can utilize the software. There is a variety of software available that allows you to handle numerous computers with a single set of keyboards, mice, and monitors.
Some are free, while others need a fee. We'll go through some of the top KVM switch alternative software in this section. Let's get started.
Microsoft Garage Mouse without Borders
You can use the 'Mouse without Borders' software if you want a free but useful program. Microsoft originally employed this in a private setting. Microsoft, on the other hand, made it public later. As a result, you can download and install it on both computers that will be connected to your monitor.
Then, to get the most out of it, follow the directions. It's worth noting that it's only compatible with Windows PCs. Furthermore, both computers must run the same version of the software. It won't function otherwise.
ShareMouse
ShareMouse is a strong software KVM that you will like. This software is ideal for controlling several PCs with just one keyboard, mouse, and monitor. This software's freeware edition is available for download.
You can, however, purchase either the ordinary or professional version of this software if you want to get the most out of it. This one has a lot of features, including the ability to handle up to 9 computers/monitors, drag and drop files from one monitor to another, clipboard sharing, and more. This software also permits cross-platform operations, which is a nice feature. As a result, you can utilize both a Mac and a Windows PC.
Input Director
This is also one of the greatest KVM software packages available on the internet. This software can be installed in a few simple steps.
It also includes a number of useful features, such as switch control, sync lock, and shared clipboard. You can also customize your settings according to your preferences.
LiteManager
This software is distinct from the others we've already discussed. Despite the fact that this is a free program, it has a lot of premium features. You can also use this program for both personal and commercial purposes for free.
You can, however, purchase a license to help the developers and gain access to additional features. You can use this to control up to 30 PCs at the same time. This software is compatible with Windows, Android, Mac OS, iOS, Linux, and Wine.
Synergy
This is one of the most widely used and powerful programs for managing several PCs at once. Initially, this was open-source software. However, you will now have to choose between the Basic and Pro versions.
It has key swapping, network encryption, clipboard sharing, mouse and keyboard sharing, plus it can connect to an endless number of devices. Overall, this program is a wonderful alternative to a KVM switch.
Remote Desktop Protocol
Another nice alternative is to use the remote desktop protocol to connect your two computers to a single monitor. In this line, Google released its free RDP software, which allows us to connect two or more PCs and access them from the comfort of a single chair.
There is a wide range of Remote protocol software on the market.
However, because it is free and simple to set up, Google's Chrome Desktop Protocol is always recommended.
To utilize the Chrome Desktop Protocol, you must have a strong internet connection. A weak internet connection might result in sluggish performance, including audio and video lags.
KVMs are ideal for multi-system configurations
A software KVM switch is an excellent technique to enhance your productivity if you have multiple systems in operation. You can save time and money by controlling several computers with a single keyboard and mouse.
Conclusion
While there are numerous commonly used methods for setting up without a KVM switch, we recommend purchasing one for professional purposes. In contrast, if you want to set up a system for personal use, you should look into alternatives. Utilize the KVM software, as it is more convenient to use.
READ MORE –